Beer Gift Baskets: Gift Basket Ideas for Men


Beer gift baskets. We've all had those gift giving occasions when we were simply at a loss of what to get that man on our shopping list. If you are like most women you have even got so desperate that you have done Internet searches on gift basket ideas for men only to be confronted with a number of rather bizarre or too expensive choices. However, now if that man on your shopping list is a beer drinker and most do like the occasional beer, then your gift giving dilemmas are over. Sending or giving that man on your shopping list a beer gift basket is the ideal way to treat him to something he will enjoy while not costing you an arm or a leg.
Beer gift baskets are one of the best gift basket ideas for men around. That is because there are so many incredible beer gift baskets to choose from that there is sure to be at least one that every beer drinking man will love. Here are just a few reasons why these baskets make such great gifts.
It's Not All About the Beer
While beer is the undisputed star of these gift baskets, it's not all about the beer. These baskets, or at least in most cases, are cute galvanized buckets that are also crammed full of various snacks from peanuts to pepperoni so that man is sure to never go hungry while he enjoys a cold brew. Just picture how happy he will be playing that Saturday night poker game or watching that basketball or football game on television with a chilled bucket of cold beer beside him and an array of snacks to choose from. These beer gift baskets also have the added benefit of you not having to hear, "Honey, I need a beer!" because he can't leave that all important play.
The bucket itself will come in handy, as well. If that man in your life doesn't want to keep it on hand for cooling other beers, he will find great uses for it in the garage or work room. So, as gift basket ideas for men go, this is one that will certainly be put to good use.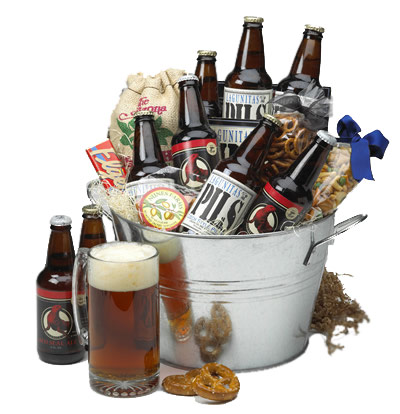 Birthday Gift Ideas for Men
Christmas Gift Ideas for Guys
Great Choices in Baskets
There are also a number of great choices in beer gift baskets to celebrate any time of the year or holiday. Gift basket ideas for men who would like to travel but, simply can't afford that trip around the world this year is the "Around the World" beer gift basket. This basket is a beer tour of all the hot spots in the world including Jamaica and Ireland. What could be more enjoyable than watching that travelogue while drinking beer from 12 different countries and munching on cheese, crackers, pepperoni and other snack foods.
He can also celebrate St. Paddy's day with some of the best Irish beers ever made or celebrate summer with the beer and BBQ basket that features a number of BBQ rubs as well as some great beer.
These are just a few of the great gift basket ideas for men you'll find when you decide to give a gift basket of beer. Why not spend a few minutes exploring these great gift ideas and who knows, you might just find a beer gift you will enjoy as well.
---
Return from Beer Gift Baskets to Unique Gift Baskets home page
Gift Basket Ideas for Men I Corporate Gift Basket Ideas I Christmas Gift Basket Ideas I Get Well Soon Gift Basket I Baby Girl Gift Baskets I College Gift Baskets I Graduation Gift Basket I Gift Food Baskets I Golf Gift Basket I Gourmet Foods Gift Baskets I Movie Gift Basket I Sports Gift Basket I Newborn Baby Gift Baskets I Unique Gift Basket Ideas I Sugar Free Gift Baskets I Gift Baskets for Children I Gift Fruit Basket I Baskets Spa Gift Baskets I Valentines Day Gift Basket I Send Gift Basket I Affordable Gift Baskets I Bridal Shower Gift Basket I Garden Gift Basket I Nut Gift Basket I Retirement Gift Baskets I Gift Basket Baby Shower Invitation I Italian Food Gift Baskets I Gift Baskets for Children I Dark Chocolate Gift Basket I