Junk Food Gift Basket: A Guilty Pleasure
A Snack Gift Basket for the Sweet Lover





Junk food gift basket. One man's junk is another man's treasure. That old saying is certainly true when it comes to foods we all like to snack on. No matter how healthy a diet we try to eat or how disciplined we are, we all have our favorite snack food that is considered junk treats by all those nutritional experts. It's these little guilty pleasures that make snacking such a joy.
It also makes gift giving easy. Choosing a junk food gift basket filled with the recipients favorite snacks can make an ideal and much loved gift. A snack gift basket is a popular choice for those kids who are away at college, those newlyweds who are establishing a new home and just about anyone else. Whether your favorite junk delight is chips and Cheetos or cookies and candies there is a snack gift basket perfect for you.
This popular junk food gift basket list will help you select great gifts.
A snack gift basket for the movie buff
We all have people on our shopping lists who are real movie buffs. Some have their own home theaters and some have nothing more than a DVD player and television in their room. Regardless of how fancy or basic their movie equipment may be the one thing they enjoy is watching movies and snacking while they do it. Knowing this, many Online stores that provide gift baskets offer their own type of snack gift basket made to order for the movie buff. A junk food gift basket can contain such delicacies as popcorn, Good n Plenties, Rasinettes, Whoppers and even peanuts. Some even come with a bottle or two of soda pop to make the perfect accompaniment for any movie.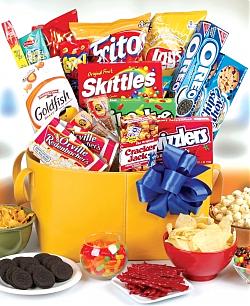 Often junk snack items are found in the pantry making them the perfect solution for homemade gift ideas.
Sports Fan Snack Food Gift Baskets
A junk food gift basket can be designed for the sports fan as well. These baskets contain such great food stuffs as beef sticks, jerky bites, assorted chips and salsa, peanuts, popcorn and some even throw in a couple of beers, root beers that is. These snack food gift baskets are perfect for the sports fan on anyone's shopping list.
Sweet Stuff Gift Baskets
It certainly isn't difficult to find a snack gift basket for people who have a sweet tooth. There are chocolate lovers gift baskets filled with chocolate truffles, candies, cookies and even assorted hot chocolates. There are gift baskets that contain a variety of sweets such as cookies, jelly beans, candies and the such. A sweet tasting junk food gift basket has endless variety.
Giving a snack gift basket whether it is filled with summer sausage and assorted cheeses, candies or a variety of junk treats is a fun way to send a gift of love. These junk food gift baskets are highly regarded and very much appreciated and if the receiver happens to gain a pound or two after a little overindulging on their new gift, then you can always send them a spa gift basket to use after that work out in the gym!
---
Return from Junk Food Gift Basket to Unique Gift Baskets home page
Gift Basket Ideas for Men I Corporate Gift Basket Ideas I Christmas Gift Basket Ideas I Get Well Soon Gift Basket I Baby Girl Gift Baskets I College Gift Baskets I Graduation Gift Basket I Gift Food Baskets I Golf Gift Basket I Gourmet Foods Gift Baskets I Movie Gift Basket I Sports Gift Basket I Newborn Baby Gift Baskets I Unique Gift Basket Ideas I Sugar Free Gift Baskets I Gift Baskets for Children I Gift Fruit Basket I Baskets Spa Gift Baskets I Valentines Day Gift Basket I Send Gift Basket I Affordable Gift Baskets I Bridal Shower Gift Basket I Garden Gift Basket I Nut Gift Basket I Retirement Gift Baskets I Gift Basket Baby Shower Invitation I Italian Food Gift Baskets I Gourmet Wine Gift Baskets I