Bright Wishes Snack Tower
Snack Gift Basket, Popcorn Gift Basket, Affordable Gift Baskets
A snack gift basket in a tower. Surely a tower of fun!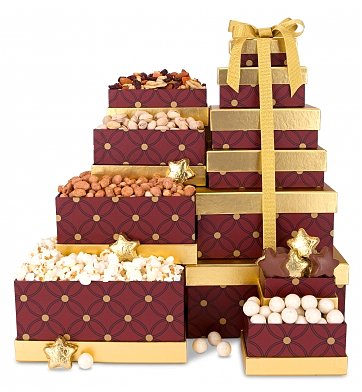 $29.95


This elegant gift tower sends the perfect bright wishes for every special occasion. Filled with sweet and delectable surprises that are deliciously wonderful.

Six beautiful gift boxes generously filled with Island Mix, Fresh Pistachios, Toffee Peanuts, Gourmet Seasoned Popcorn, Milk Chocolate Stars, and Cheesecake Caramels.

After the luscious treats are gone, the keepsake boxes can be used again and again at home or at the office.

One of the most affordable gift baskets, this tower is one of the most popular. As a popcorn gift basket, you know you'll be giving a wonderful treat.
Measures 14.5" H.
Return from Snack Gift Basket to Affordable Gift Baskets