Madison Avenue Gift Basket
Gourmet Food Gift Baskets
Gourmet food gift baskets filled with tantalizing foods and confections.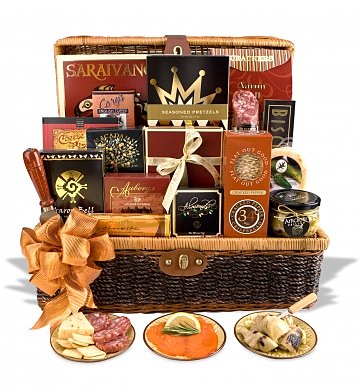 $99.95



The Madison Avenue basket got its name and inspiration from the luxury boutiques on this famous New York street. Filled with premium quality foods and delectible confections, the Madison Avenue is a cornicopia of delights.

It comes with Vino Rosso Dry Salami, Seasoned Almonds, Brie Cheese Spread, Saraivanov Smoked Salmon, Godiva Chocoiste Milk Chocolate, Dark Chocolate English Toffee, Artichoke Grilled Antipasti, Sun Dried Tomato Pesto Cheese Biscuits, Hot Pepper Cheese, 34 Degree Crispbread Crackers, and much more.

The perfect choice.

Measures 20" x 14" x 8".


Return from Gourmet Food Gift Baskets to Gift Food Baskets