Homemade Gift Basket Ideas


Homemade gift basket ideas are endless. Gift baskets make such wonderful gifts because they are often elaborate and gorgeous to look at, they offer many exciting gifts for the recipient, not just one, they are affordable, and they can easily be molded to fit almost any theme you need for a gift giving situation. Everyone loves to receive a gift and gift baskets make the recipient go, "Wow!"
The Theme
Homemade gift basket ideas start with the topic for the gift. Is this a holiday, a birthday, an anniversary or wedding? There is no occasion where a gift basket is not appropriate. Once you know your topic or theme, you are on your way to a wonderful present.
All Homemade or Partly Homemade
There are two main approaches to homemade gift basket making. The first is to make the entire basket on your own. The second is to purchase an assembled basket and add on homemade items that customize the basket and make it precious and personal.
The Container
Once you have decided on your theme, your next decision is whether to use a traditional basket or a unique decorative container. Although many opt for a basket, there are so many non-traditional decorative containers to add a spicy zest to your creation. An example, if you create a gardener's gift basket, you could use a colorful old fashioned watering can as the basket substitute. It amps up the decorative value of the gift and is more genuine and consistent with the theme.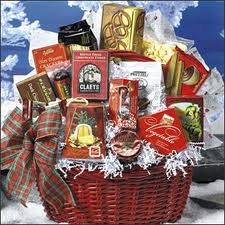 Easy homemade gift basket ideas - there are low cost and free gift basket ideas.


Inexpensive or free homemade Christmas gift basket ideas - affordable fun for all.
The Supplies
You will need filler to provide padding for the gifts. Shredded cellophane or paper, crumpled tissue paper and straw are types of filler. An example of non-traditional filler would be placemats in a housewarming gift basket.
You will need cellophane, tulle or shrink wrap to serve as "wrapping paper" for the finished basket. Ribbon, which comes in a variety of sizes, textures, shapes and material, will top off your basket.
The Gifts
The gifts that you select should enhance your theme and be a delight to your recipient. If you are preparing a gourmet gift basket, the foods, such as, summer sausage, cheese spreads, caviar, and bruschetta, for example, would be the gifts. If you were making a golf gift basket, the golf joke book, practice putting cup, wooden golf tees, golf balls, USGA Rule Book and golf towel would be the gifts.
Homemade gift basket ideas
Homemade gift basket ideas include: movie themes, golf, books, football, picnics, hunting, new baby, fishing, spa and aromatherapy, corporate executive, gourmet, wedding, coffee, anniversary, tea, cookie, chocolate and wine.
---
Return from Homemade Gift Basket Ideas to Unique Gift Baskets home page
Gift Basket Ideas for Men I Corporate Gift Basket Ideas I Christmas Gift Basket Ideas I Get Well Soon Gift Basket I Baby Girl Gift Baskets I College Gift Baskets I Graduation Gift Basket I Gift Food Baskets I Golf Gift Basket I Gourmet Foods Gift Baskets I Movie Gift Basket I Sports Gift Basket I Newborn Baby Gift Baskets I Unique Gift Basket Ideas I Sugar Free Gift Baskets I Gift Baskets for Children I Gift Fruit Basket I Baskets Spa Gift Baskets I Valentines Day Gift Basket I Send Gift Basket I Affordable Gift Baskets I Bridal Shower Gift Basket I Garden Gift Basket I Nut Gift Basket I Retirement Gift Baskets I Gift Basket Baby Shower Invitation I Italian Food Gift Baskets I